During the trip in the Eifel of last week I mentioned the brake upgrade to some people and at least one (me) is interested. I would like to look at it as a good, nice and scaleable solution and I generally don't like sitting on knowledge so I share drawings without any problems.
The problem is of course that we drive our cars to fast and that the solution is to drive slower, but I'm not an engineer to solve things that way. I have a stock setup with solid discs and Ferodo 2500 pads. The amount of thermal mass in our discs is relative small, cooling things down can help of course by using the vanes of the 323i. But I feel fading at about the same moment as the stock 323i that I was tailing. Thegs (with his red 323i) mentioned that he feels fading at about the same moment that Jeroen (with his Wilwood Powerlite and stock discs setup) feels.
So to have more thermal mass and to be able to use modern disc technology my suggestion is to move to two piece rotors. In that way everybody can choose their own rotors, slotted, drilled, 279mm or 356mm or whatever. The only thing is that hearts are needed. No big invention, Massive and IE et al sell these kits. But I am not willing to pay that much money.
The Wilwood calipers are dimensioned in such way that a bracket to fit the caliper is easy to parameterize. I think I can set up a group buy to make these brackets but if someone in the future wants to make it themselves, just take the fitted rotor diameter, calculate a dimension and send the drawing to a machine shop.
To select things this info is needed: Rotor diameter, rotor width, radial or normal mount, number of pistons and piston area and pad area. This forum has some experience with the Powerlite caliper (120-8729). These can take maximum 279 (11") discs, 21.8mm width (0,86"), radial mount, 4 pistons width 19.35cm2 (3in2) and pad area is 11,6cm2 (1.8in2).
Powerlite: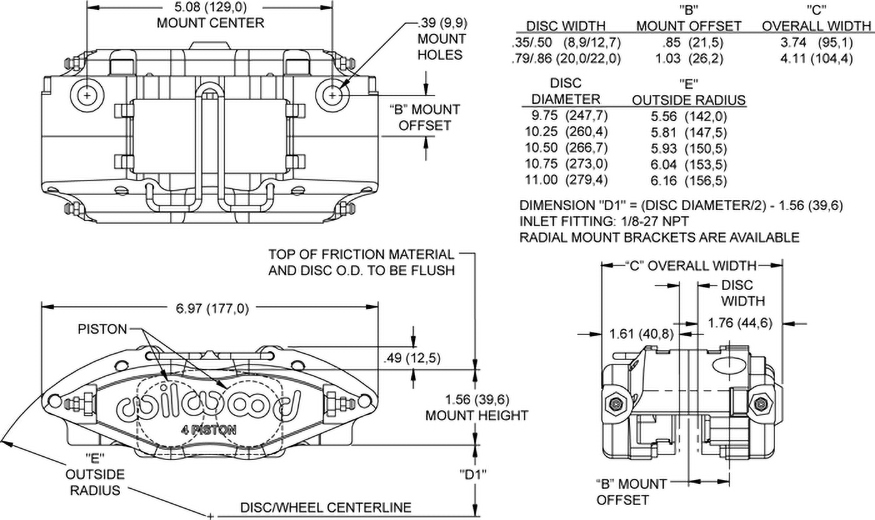 For simplicity reasons I like the 'normal' way of mounting a caliper, I would like not to be limited by the diameter and I'll accept the 20.6-21.8mm (0.81-0.86") width, however wider is absolutely an option of course.
These are the options:
https://wilwood.com/Calipers/CaliperLis ... tarea=3.00
For some reason I like this one, the Forged Narrow Dynalite: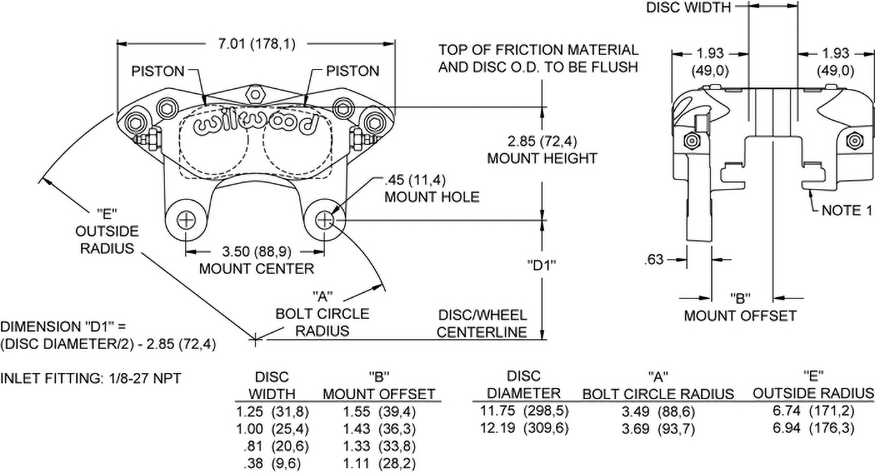 When a bracket is needed, strength will be an issue and this thing is designed with a large mounting height, which makes the bracket less complicated. It is available for 20.6 (0,81"), 25.4 (1") and 31.7mm (1.25") wide discs. Pad area is 19.35cm2 (3in2). Max disc diameter is 323mm (12.72").
So, from the caliper no real limitations. Let's move to the rotors, here it is different and it will help us/me out of our dreams. For 20.6mm (0.81") wide rotors there are some options:
https://wilwood.com/Rotors/RotorList1?a ... l=&appCat=
Diameters are 273 (10.75) and 279mm (11").
For 25.4mm (1") wide rotors there is one option:
https://wilwood.com/Rotors/RotorList1?a ... l=&appCat=
Where the diameter explodes in our face with 327mm (12.88").
For 31.7mm (1.25") there is more choice:
https://wilwood.com/Rotors/RotorList1?a ... l=&appCat=
It is one or another. The bolt pattern of the 0.81 and 1.25 is different and of course the height of the heart. I don't know. If one invests, one wants to do it good. The price of 31.7mm stuff is not more or less than for 20.8mm stuff. I don't know about clearances, but I would like to go for 31.7mm wide rotors, if it fits. 298mm (11.75") diameter is not too crazy and I guestimate that it fits 15". The inside of the disc is fixed, the wider it becomes, the closer it comes to the rim. So it would be nice to have a small survey how much space there is between the inside of the rim and the outside of the disc, most of us are on 15" Alpina and I am at 15" BBS Mahle.
Next thing... The hearts. Most often they are made of aluminium. The rotor is cast iron and screws and bolts are often ferritic as well. The latest months I have become aware of galvanic corrosion. The calipers' aluminium is painted or anodized so it is isolated. Hearts could be protected as well, but it does not seem to be sustainable to me, the smallest scratch could be catastrophic (the smaller the contact area, the quicker the corrosion). The hearts can be isolated as well by other means (plastic washers and so) but I don't know. Maybe I see bears on the road where there are no bears, but I would make the hearts out of steel. I mocked up something on my work pc and with 279mm rotors I ended up with the same weight as for stock 255mm 323i discs.
Please: shoot, discuss and improve my writeup.