General
Not many interior issues either! Some things you want to know or check:
-humid floor mats (lift them) usually caused by rust or a worn windscreen seal (the latter is also the most likely cause of your glovebox turning into a swimming pool)
-interior heating controls failing, cables come off after careless work like fitting a radio, or heater valve stuck
-most of BMW's cloth is NLA for a long time now, wear is likely after 30+ years but you might have to consider a search for some decent seats, then keep in mind you won't be the only one on the lookout
-dash cracked on top because of sunlight exposure
Sometimes people are confused when not all interior vents blow heated air, but some only supply cold air. See image below for facelifted dash model, dark arrows indicate heated air, light arrowed vents only blow cold air. The slider at the right of the heater control panel lets cold outside air in. Handy on a hot day, but keep it closed (slider down) when it's real cold and you need heating.
The heater/vent fan is known to seize or become noisy, easy to access under the black cover for the windscreen wiper mechanism in the engine bay, sometimes just a bit of lube may already help you out.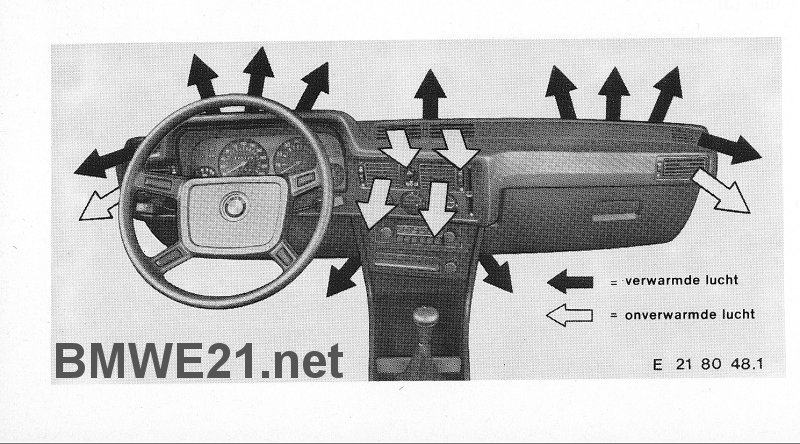 Speedometer issues
E21 speedo's do wear and this may cause internal parts to slip or disconnect causing a jumpy dial and mileage counter stopping working. The speedo can be the cause, but so can the speedometer cable that is connected to the gearbox. It may be bent, worn and the cogwheel inside the gearbox may be worn as well (easy to pull out without taking the box apart, most times).
Please note that there is a different speedo for each type of diff! The diff determines the final drive ratio and with the speedo pick up at the gearbox, the speedo cannot see what happens after the gearbox. That's why you need a speedo with the correct conversion factor.
Conversion factors as displayed on the dial or at the rear :
W=0911: 0,911 = 4,10-differential (315) or 4,11-differential (316-1,6, 318)
W=0866: 0,866 = 3,91-differential (316-1,8, 318i, 320/4, 320i-1,8i)
W=0808: 0,808 = 3,64-differential (320i-2,0, 320/6)
W=0762: 0,762 = 3,45-differential (323i)
For a whole topic on speedo correction factors:
http://www.bmwe21.net/forum/viewtopic.php?f=3&t=1629
Manual and automatic gearboxes have the same diffs fitted, no differences there. And all diffs were available from the factory as 25% limited slip differential (optional). Some models even had a LSD fitted as standard, for example US 320iS, French 323i Run Out.
Special:
M10 to M42 Getrag 240 mechanical speedo conversion
Hazard warning light switch
Common failure! See
http://www.bmwe21.net/forum/viewtopic.php?f=3&t=4099
Related: indicator relay issues
http://www.bmwe21.net/forum/viewtopic.php?f=61&t=22961
Miscellaneous
Nice sticky on dashboard removal!
DIY Recaro fitting
Installing additional gauges